Jun
28
Wed
Education Meeting: School's Out for Summer!

@ Crowne Plaza
Jun 28 @ 12:00 – 14:00
Join our last Education Focus Group meeting of the 2016/17 academic year, where we review previous activities, look ahead to 2017/18, introduce our new members, and enjoy a great lunch prepared by Crowne Plaza.
Time: 12:00 – 14:00
Address: 25F Crowne Plaza Chengdu City Centre, 31 Zongfu Street, 总府街31号
Cost: 200 RMB / 250 RMB ( Members / Non-members )
Jul
10
Mon
BritCham & AustCham Outdoor BBQ Fun Day | 户外烧烤派对

@ Dongfeng International Sports Park
Jul 10 @ 11:00 – 16:30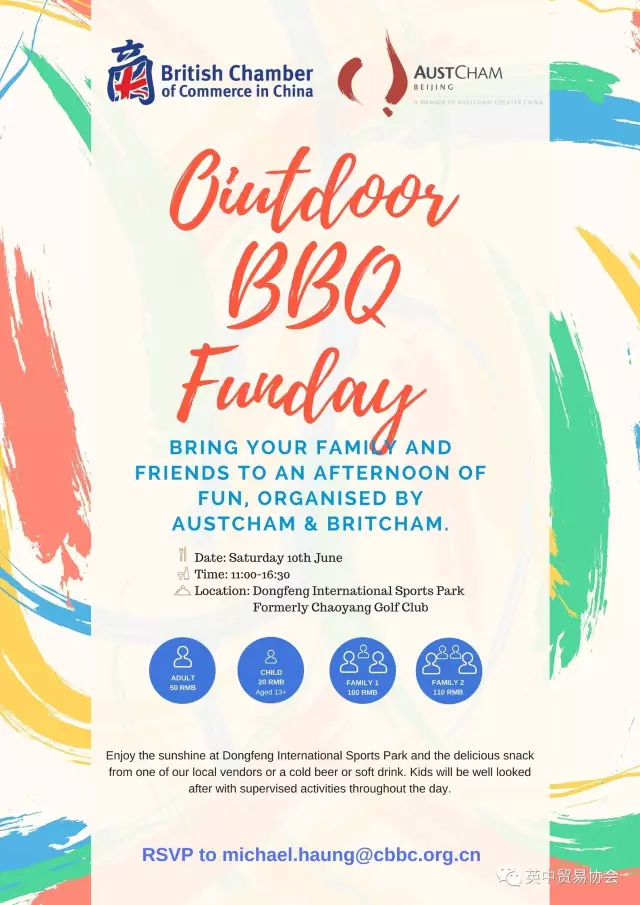 Come and join us on the 10th of June for our Annual BritCham & AustCham Outdoor BBQ Fun Day, held at Dongfeng International Sports Park, formerly Chaoyang Golf Club. Soak up the sunshine, let the kids be entertained by the summer fun activities and enjoy a stroll through our fairground, which will feature a variety of local food, drinks and specialty vendors.
6月10日(周六)11:00-16:30,中国英国商会将携手中国澳大利亚商会在东枫国际体育园(北京市朝阳区农展馆南路甲9号)举办一年一度户外烧烤派对。届时,您将与孩子们一起边沐浴着阳光边参加各种盛夏娱乐活动,漫步在露天广场,徜徉在各式特色摊位间,享受当地特色小吃、饮品。
The BritCham & AustCham Outdoor BBQ Fun Day will be the first of many 2017 community summer events, so come along and kick off the summer season with fun, food and friends.
本次烧烤节作为开启今夏的第一场盛事,是一次与好友三五相聚、享受美食、尽情娱乐的好机会。良机莫失!
The Great Aussie BBQ 2017 will be held this coming September.
一级棒澳洲烧烤将于今年九月举办。
Tickets
Adults: 50RMB; Children: 20RMB (under 13 free)
Family package 1: 100RMB for 2 adults and 1 child
Family package 2: 110RMB for 2 adults and 2 children
门票(人民币)
成人:50元;儿童:20元;13岁及以下儿童免费
家庭票1:2位成人+1位儿童共100元
家庭票2:2位成人+2位儿童共110元
Map
地图

Registration
报名方式
If you are interested in this event, please contact Michael Huang
如果您对本次活动感兴趣,敬请联系英中贸易协会Michael Huang
Michael.Huang@cbbc.org.cn
Sep
26
Tue
Just a quick note to make everyone aware that this year's SME China Forum will take place on Tuesday 26th September in Bristol. We have updated the CBBC website with the latest information about this event, which includes an outline of core content, sponsor's pack and link for delegates to register. This is CBBC's largest annual event in the UK after the China Business Conference, and the most relevant for SMEs looking for insights on how to enter the China market.
The core themes of the Forum this year will be:
China Market Entry Strategies
China's appetite for new consumer experiences, entertainment and content
Innovation, technology and investment partnerships
We will be adding further breakout sessions, and are keen to have conversations with sponsors as early as possible to discuss how they can contribute to content.
What can YOU do to help make the event a success?
CBAs / Sector Leads
Although the event takes place in the Southwest region, this is very much a national event that will appeal to a broad audience of SMEs. Please support us by promoting the event with companies you are currently advising that could benefit from attending. Bristol has great transport connections to the rest of the country, so no reason why companies elsewhere wouldn't see the value of travelling down for this event.
Speakers/sponsors – the SME Forum is an ideal platform for any potential sponsors looking for platform to sell services to SMEs. This might include service providers in areas such as legal, tax advisory, logistics, digital/IT and other areas. Please bring this into conversation with any companies you are meeting with an feel free to send the sponsorship package (see HERE) to companies that may be interested.
China Team
We are already in discussions with Chinese delegations that may be interested in attending the Forum. Please let us know as soon as possible if you are in contact with any Chinese delegations that may be interested in attending the forum. For planning purposes we would prefer as much notice as possible on any possible groups attending, so please let us know as soon as possible. I am also attaching a brief outline of the event in Chinese, which can be shared with any delegations you are speaking with.
Please find the SME China Forum 2017 Flyer in Chinese here