This article is written by Wang Mingjie and Ouyang Xueyan on 27th of February for Chinadaily online.
Shanghai expo is platform for British exports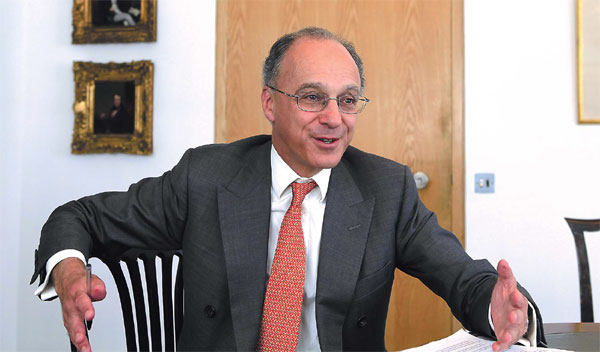 Expanding Chinese market offers big opportunities to UK businesses
The first ever China International Import Expo, taking place in Shanghai in November, will be a good opportunity for Britain to show its products and services to new Chinese buyers, said the chairman of the China-Britain Business Council.
James Sassoon said United Kingdom companies are excited about the possibilities presented by the expo because there are already 430 million middle-class Chinese consumers hungry for the best quality goods and services from around the world.
"Those 430 million will rise to about 750 million in the next few years, so this is a great opportunity for UK businesses," he said. "We think what we have to present at the expo is what Chinese consumers want to buy."
The expo, which was announced by President Xi Jinping last May and will run from Nov 5 to 10, is the first of its kind and seeks to further open up the Chinese market to the world.
British international trade secretary Liam Fox has confirmed he will attend, and Sassoon said this showed "very good commitment from the government and business" to the expo.
"It's because we want to show off the best we have whether it's in automotive, tourism, healthcare or creative industry — there is so much in the UK that has to present right across the board. We will be there," he added.
Sassoon accompanied British Prime Minister Theresa May on her recent trade mission to China, which sealed 9 billion pounds ($12.5bn) worth of new agreements. He said the three-day visit to Beijing, Shanghai and Wuhan, was eye-opening for the prime minister.
"I know from talking to her, she understands now much better why British businesses are so enthusiastic to put the emphasis on China markets," he said.
"It was an excellent visit both for her to understand the business opportunities, but also we move now into the 'golden era' 2.0."
Sassoon admitted May does not have the same background of visiting China as previous UK leaders, but pointed out that she understands the importance of the
UK-China relationship, as demonstrated by the fact that China was the only country described by May as a vital trading partner for the UK in her keynote speech to business leaders at the Lord Mayor's banquet last November.
Sassoon also said the China-proposed Belt and Road Initiative was perhaps the clearest example yet of how the two countries can work together.
"Business on both sides have these complimentary skills," he said. "China with its lead in engineering and construction on one hand, and the UK with its undoubted leadership in project management, legal construct for major infrastructure projects and financing in risk management."
The remaining challenge, he said, was for the UK and China to identify a list of projects that third countries want to work on, so that Chinese and UK businesses can start focusing on such projects. Another key area, he added, is to define the standards that make these big projects financeable on market terms in the global market.
Please, click here, to review the article.