When:
29/11/2016 @ 14:00 – 17:00
2016-11-29T14:00:00+08:00
2016-11-29T17:00:00+08:00
Where:
No.2 Conference Room
5F
International Land Office Building 大陆国际写字楼5F2号会议室

Cost:
RMB 100 Members, RMB 200 Non-Members
Contact:
Britcham/CBBC
+86 028 6830 5159
Put the right people in the right positions at the right time!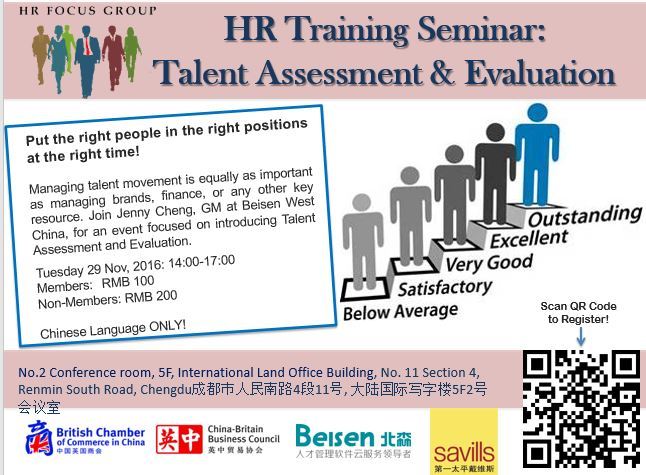 Managing talent movement is equally as important as managing brands, finance, or any other key resource. Join Jenny Cheng, GM at Beisen West China, for an event focused on introducing Talent Assessment and Evaluation.
Jenny has 12 years' experience in HR, 6 years in a Fortune 500 multinational firm, spent 4 years in HR consulting firms, supplied services to Huawei, IBM, E&Y, Ericsson, Hainan Airlines and more. She is now responsible for Beisen West China, the first talent assessment company in China and the leading expert in the HR field.
Jenny will introduce the steps of the Talent Review Process, which will also include the best practices of top companies in China. All members are welcome and are encouraged to ask questions during the Q&A session.
THIS IS A CHINESE LANGUAGE EVENT