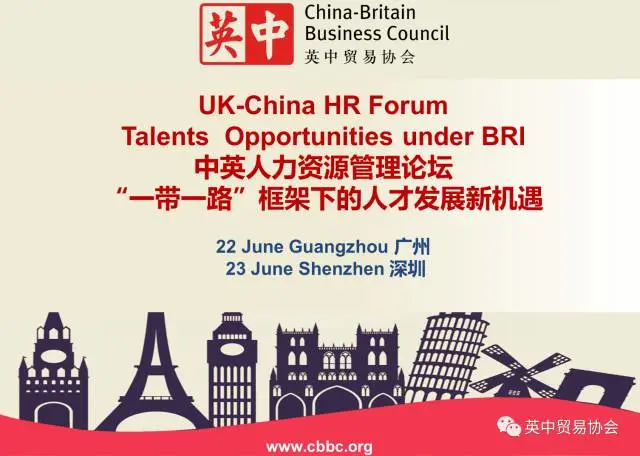 CBBC plans to hold the "UK-China Human Resource Management Forum" on 22nd June in Guangzhou and 23rd in Shenzhen. Through this event British experts in the Human Resource sector may present their suggestions and experiences to their Chinese counterparts and by doing so help promote cooperation, an exchange of ideas and an opportunity to identify future business opportunities under the "Belt and Road" Initiative.
英中贸易协会拟定于6月22日和23日分别在广州和深圳举办 " 中英人力资源管理研讨会",活动将齐聚中英两国的人力资源资深人士,通过法律、招聘、人身保障、招聘等角度来分享英国人力资源管理的优点,并与中方人力资源人士讨论并碰撞思想,促进双方的合作与发展,挖掘"一带一路"建设下的人才发展新机遇。
Since 2013, when President Xi proposed the "One Belt One Road" strategy, China has achieved substantial progress and has driven the development of many industries and has required the mobilisation of a large number of key elements. Facing the new challenges and new opportunities brought by building the "Belt and Road", enterprises have been required to reform and transform their internal management in order to adapt to the market changes and needs.
自2013年习近平主席提出" 一带一路"战略构想以来,中国取得了诸多实质性进展,带动了众多产业的发展和巨量的要素调动。面对 "一带一路"建设带来的新挑战和新机遇,企业也在积极对自身的内部管理进行改革和转变,更好的适应市场的变化。
An enterprise's development depends heavily on its talent pool. During this process of change, companies need to work out new human resources management scheme in order to respond to the enterprise's new business development strategy. Britain, as one of the most developed countries in the world, possesses and implements an advanced human resource management philosophy that makes a great contribution to enhancing the nation's economy. CBBC has closely followed the "Belt and Road" Strategy and published three serial editions of "Belt and Road" Initiatives analysis reports in the past three years. Lord Sassoon, the Chairman of CBBC, presented the first edition of the report to President Xi during his first official visit to Britain in 2015.
企业发展离不开优秀的人才。在调整转变时,企业需要对人力资源管理制定新的计划,激励员工参加培训和响应企业的新市场拓展战略。英国作为当今世界最发达国家之一,其先进的人力资源管理方法和管理理念对于促进英国经济的繁荣有着不可磨灭的贡献。而英中贸易协会也一直紧跟中国"一带一路"高端战略,在过去三年连续印发了三版不同主题的"一带一路"战略分析报告,英中贸易协会主席詹诚信勋爵也在习近平主席2015年秋访英期间亲赠习主席第一版报告。
Attending Guests
Scale: 80-100 people per event
-Decision makers or staff from HR/Law departments of
Domestic private and state-owned companies, some with intention to invest or having already invested overseas
Foreign companies
-Representatives from HR service companies
参会嘉宾
活动规模:单场活动约80-100人
-来自以下公司的决策者或者人力资源/法务部人员
国内私企及国企,部分有投资海外意向或已投资海外
外企
-人力资源服务企业代表
Agenda (Guangzhou/Shenzhen)
13:30-14:00 Registration
14:00-14:20 Opening Speech
14:20-14:40 An Overview of Guangdong 's Human Resources Status
14:40-16:00 Theme speeches by British Companies with related HR experiences to share and discuss:
The legal perspective
The recruitment perspective
The insurance perspective
The HR/corporate perspective
16:00-16:20 Experiences sharing by UK/Chinese companies HR Departments
16:20-17:00 Networking or one-to-one matching (with tea break served)
活动流程(广州/深圳)
13:30-14:00 来宾签到
14:00-14:20 开场致辞
14:20-14:40 广东人力资源现状概述
14:40-16:00 主题演讲,专业人力资源服务相关的英国公司从以下角度分享并进行深入讨论:
16:00-16:20 中英企业人力资源部门经验分享
16:20-17:00 自由交流或中英企业预对接一对一交流(茶歇供应)
To learn more, please contact Rita Huang at CBBC Guangzhou
如需了解更多详情,敬请联系英中贸易协会广州代表处Rita Huang
rita.huang@cbbc.org.cn
+86 (0)20-8883 2120 ext. 808