When:
01/08/2018 @ 14:30 – 16:30
2018-08-01T14:30:00+07:00
2018-08-01T16:30:00+07:00
Where:
Crowne Plaza Chengdu City Center
China
Sichuan Sheng, Chengdu Shi, Jinjiang Qu
总府街31号 邮政编码: 610000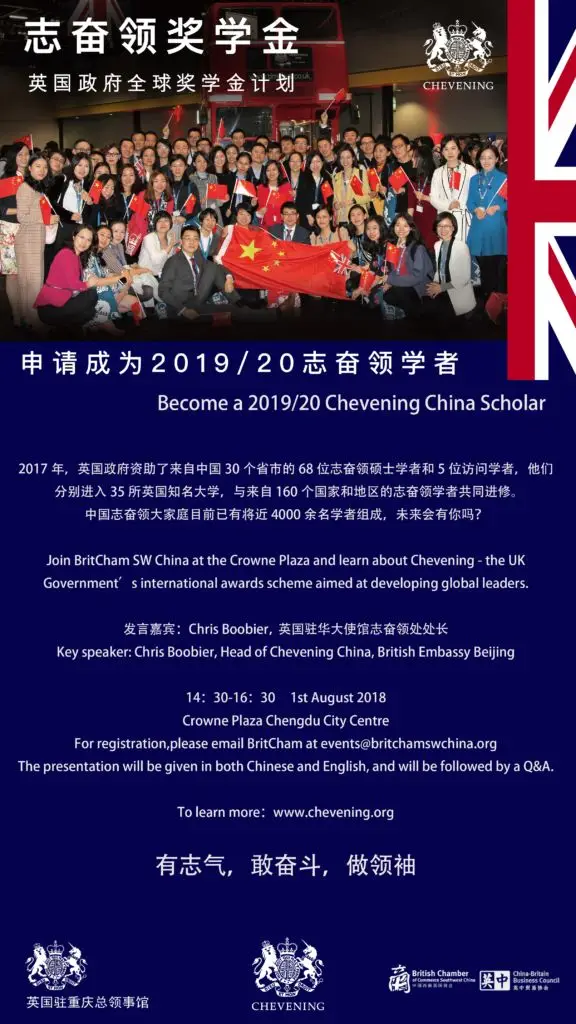 This is an opportunity to learn how to apply to the prestigious Chevening Scholarship – the British Consulate General Chongqing cordially invites you to a briefing if you are interested.

Date: 1st August 2018

Time: 14:30-16:30

Location: 25F Sky Lounge, Crowne Plaza Chengdu City Centre,

No. 31 Zongfu Street, Chengdu

这是一个了解如何申请英国志奋领奖学金的机会-如果您对此感兴趣,英国总领事馆诚挚地邀请您参加此次宣讲会以了解更多信息。

日期:2018年8月1日

时间:14:30-16:30

地点:成都总府皇冠假日酒店25楼步云廊(锦江区总府街31号)

Chevening Scholarships are awarded to outstanding emerging leaders to pursue a one-year master's at any UK university. The scholarship programme provides a unique opportunity for future leaders, influencers, and decision-makers from all over the world to develop professionally and academically, network extensively, experience UK culture, and to further shape the UK-China bilateral relationship.

志奋领奖学金支持未来领袖在英国进修一年制硕士学位。志奋领为全球的未来领袖,影响力人物和决策人士提供卓尔不群的机遇,他们将在专业、学术和社交领域得到长足发展,他们还将体验精彩的英国文化,进一步巩固中英双边关系。
Chevening began in 1983 and has developed into a prestigious international awards scheme. With over 4,000 alumni in Mainland China, there are around 50,000 Chevening Alumni around the world who are part of an influential and highly regarded global network covering all areas of society, including politics, business, media, science and technology, civil society and academia.自1983年以来,志奋领奖学金共资助全世界范围内50000余名领导者和影响力人物,其中超过4000名来自中国。全球志奋领领友网络中涌现出大量领导人才,遍布社会各个领域包括政治、商业、媒体、民间团体、科学技术和学术等。
In 2017, the UK Government funded 68 China Chevening Scholars to attend postgraduate study at UK universities. During 2016/17, Chevening Scholars attended a Roundtable Discussion at Buckingham Palace with HRH The Duke of York, took part in UK-China dialogues, visited the Foreign & Commonwealth Office, and met with senior leaders including then Foreign Secretary Boris Johnson and Chinese Ambassador to the UK Liu Xiaoming. The Chevening Scholarship includes university tuition fees*, a monthly stipend, travel costs to and from the UK, an arrival allowance, a homeward departure allowance, the cost of one visa application and a travel grant to attend Chevening events in the UK.*There is a fee cap applied to MBA programmes that requires applicants to cover any additional cost over £18,000.2017年,英国政府资助了来自中国68位志奋领硕士学者进入英国大学。 2016/17届中国志奋领学者参加了由约克公爵在白金汉宫主持的圆桌讨论,中英高层对话,参观了英国外交部并会见了高层领导人如时任英国外交大臣鲍里斯·约翰逊和中国驻英大使刘晓明等。

志奋领奖学金提供包括大学学费(MBA课程赞助上限为18000英镑),月度津贴,一次来往英国的旅费,落地津贴,归国津贴,一次签证申请费用,在英国参加志奋领活动的旅费等相关费用。
Applicants for Chevening China Scholarships can be from any province in Mainland China. Chevening supports applicants who demonstrate strong leadership skills or potential in their chosen field, regardless of social or economic background. Applicants for Chevening China Scholarships can be from any field and representative of any institution.无论您来自任何社会或经济背景,志奋领都将支持具备卓越领导力或潜质的申请人。中国志奋领奖学金,欢迎来自任何领域,任何机构,来自中国任何省份的申请人。
HM Ambassador to the People's Republic of China, Dame Barbara Woodward, said the following:"Chevening Scholars possess the kind of leadership we need in the world today. They are the pioneers of the Global Partnership, forging a new and confident future for the world with zeal and enthusiasm. They are leaders that are prepared to evolve their thinking in order to adapt to the moment, influencing others to make positive change in society."The Chevening Programme sows the seeds for a Global Partnership that works for all, creating a global community of future leaders that are able to respond to the greatest challenges of our time."英国驻华大使有关中国志奋领奖学金项目致词如下:

"志奋领学者的领导力为当今世界所需。他们引领全球伙伴关系,以热忱和激情为世界打造全新和自信的未来。他们准备好拓展思想,知机识变,与时俱进,力促变革。

志奋领项目为全球伙伴关系播种,创造了能够应对时代巨大挑战的未来领袖全球网络。"
To be eligible for a China Chevening Scholarship you must:
Be a Chinese National currently residing in the People's Republic of China;
Have received offers from or applying for your chosen universities in the UK;
Return to your country of citizenship for a minimum of two years after your award has ended;
Have an undergraduate degree that will enable you to gain entry onto a postgraduate programme at a UK university. This is typically equivalent to an upper second-class 2:1 honours degree in the UK;
Have at least two years' work experience;
Meet the Chevening English language requirement;
Not be an employee, a former employee, or relative of an employee (since July 2015) of Her Majesty's Government (including British Embassies/High Commissions, the Department for International Development, the Department for Business, Energy & Industrial Strategy, Department for International Trade, the Ministry of Defence and the Home Office), the British Council, or a staff member of the Association of Commonwealth Universities. Employees, former employees, or relatives of an employee (since July 2015) of Chevening Partner organisations are eligible to apply, but cannot receive a Chevening/Partner Award from the organisation for which they work, previously worked, or are affiliated with through relatives.
Have not previously studied in the UK with funding from a UK Government-funded scholarship. However, if you have previously studied under a UK Government-funded scholarship (including Chevening), you may be eligible to apply for a Chevening Fellowship five years after completion of your initial UK Government-funded scholarship.
中国志奋领奖学金对符合以下条件人士开放申请:
中国公民;
已经获得学士学位;
已经被英国大学相关硕士课程录取,或准备申请英国大学的相关硕士课程(2019年秋季入学);
有两年以上工作经验、有管理和决策职责;
英语水平符合要求(雅思总分6.5, 单科5.5分以上)
不是英国外交与联邦事务部、志奋领奖学金项目秘书处、项目合作伙伴或直接关联组织的员工或员工直系家属;
在该学年未接受其他奖学金和资助,并且近三年内未接受过英国政府资助。
To apply for a Chevening Scholarship, you should:
Complete and submit an online application at www.chevening.org/apply by Tuesday 6 November 12:00 GMT
Apply to three different eligible UK university courses and have received an unconditional offer from one of these choices by middle July 2019
Meet the Chevening English language requirement by middle July 2019
申请方式:
2018年11月6日英国时间12:00(北京时间19:00)之前在www.chevening.org/apply提交网上申请
申请三所不同的英国大学课程并在2019年7月中旬之前收到其中一个大学的无条件录取通知书
在2019年7月中旬之前达到志奋领英语语言要求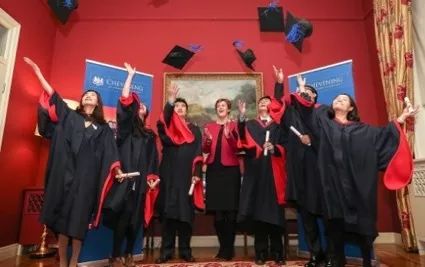 To receive regular updates about Chevening, please contact the China Chevening Team by sending a personal introduction to chevening.beijing@fco.gov.uk or visit the Chevening Homepage at www.chevening.org.Chevening contact person in Southwest China: Sean Rao sean.rao@fco.gov.uk想获得关于志奋领项目的更多信息,请将您的个人简介和问题发送至chevening.beijing@fco.gov.uk,或浏览志奋领官方网站www.chevening.org。志奋领项目西南地区联系人: 饶杰淼 sean.rao@fco.gov.uk
For more details and registration,please scan the QR code
or email BritCham at events@britchamswchina.org