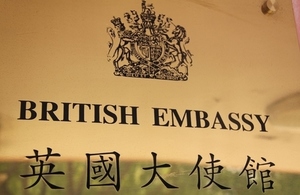 Under changes to the UK's Immigration Rules due to come into effect on 6 July 2018, UK Visas & Immigration is reducing documentary requirements for Tier 4 student visa applicants from China.
The changes mean Chinese students will not be required to provide evidence of finances, qualifications or evidence of their English language ability with their visa application. They will also no longer have to apply from inside China to be eligible to benefit from the new rule.
Welcoming the news, Dame Barbara Woodward, HM Ambassador to China, said:
"The simplification of the UK visa application process for Chinese students is great news for thousands of young people starting their courses this autumn and for those considering a UK education in the years to come.
International students make a significant contribution to the UK, and as Ambassador I am extremely proud that the quality of our education is continuing to attract the brightest and best from China in increasing numbers each year."
All Chinese students will still need to meet all requirements under the Tier 4 visa route and UK Visas & Immigration reserves the right to request this evidence in full and will do so for a random sample of applications.
These new arrangements already exist for students from a number of other countries and competent authorities, including the United States, Hong Kong and Malaysia.
In the year ending March 2018, the UK issued around 89,000 Tier 4 study visas to Chinese students, a 15% increase on the previous 12 months. 99% of those who applied were successful.
See the source here